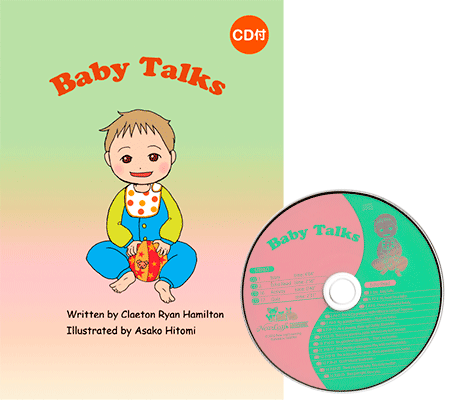 ハイハイができるようになった赤ちゃんが、おうちの中を探検しながら家族を紹介してくれます。おじいちゃんやおばあちゃんたちも、赤ちゃんが大好きで可愛がってくれますが、一番心地よいのはやっぱり・・・
A new born baby has just started to crawl, curious about where all his family members are and what they are doing. He goes on an adventure to find his favorite out of them all. Who will it be?

ページのあちらこちらに、テディベアが描かれています。テディベア探しをしてみましょう。
You can see a teddy bear on most pages. Find the teddy bear for some added fun.
対象:4歳~8歳

Ages : 4 ~ 8

サイズ:B5縦

(25.7cmx18.2cm)




Size : B5 (25.7cm x 18.2cm)

ページ数:28ページ


28 pages

本の形態:ペーパーバック

Paperback
トピック topic
本文中の主な単語・表現 words and phrases
| | |
| --- | --- |
| 単語 | mother, father, sister, brother, grandma, grandpa, |
| 表現 | |
Quizの主な質問 questions
Where's my teddy bear?
・・・It's here. / It's there.
How many little bears are there?